WaveVR_AutoLayout¶
WaveVR_AutoLayout is an extension of WaveVR_ShowIndicator, it is used to display controller tips for each button. WaveVR_AutoLayout is dependent on WaveVR_RenderModel.cs, and all the devices must follow the WaveVR rules.
Preconditions¶
One of the preconditions should be met:
Using a controller loader.
If a customized controller is used, please make sure each component mesh in the controller model must follow the naming rule defined by WaveVR. Please refer to the OEM Customization Guide for more details.
Note
WaveVR_ShowIndicator and WaveVR_AutoLayout can be used independently when you add component to a controller model. However, WaveVR_AutoLayout will be disabled if both two components WaveVR_ShowIndicator and WaveVR_AutoLayout are added to the controller model and the option Auto Layout in WaveVR_ShowIndicator is unchecked.
Introduction¶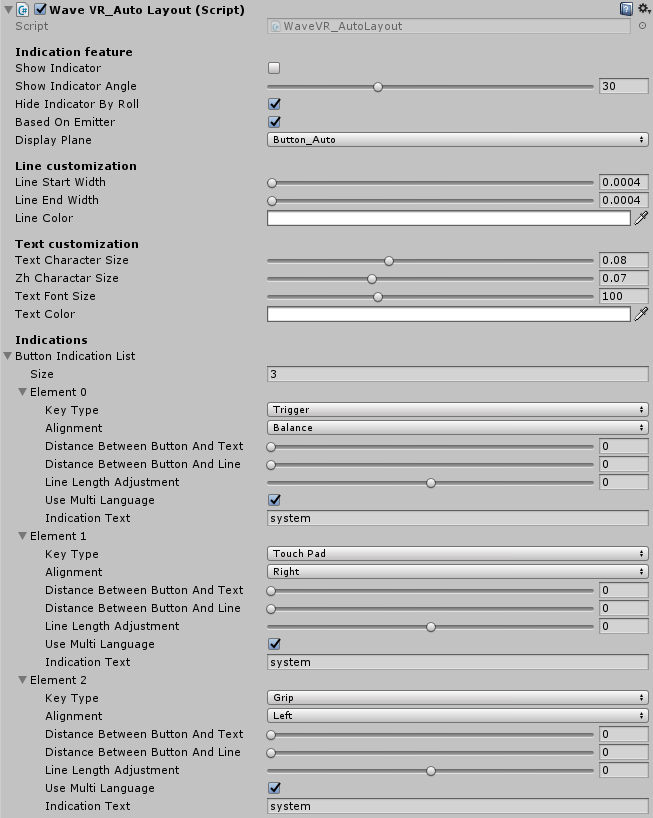 Resources¶
The script WaveVR_AutoLayout.cs is located in Assets/WaveVR/Scripts/ControllerModel/.